Netizens are talking about TXT members working at their album manufacturing factory.
On an online community forum, a netizen shared a post titled, "idols that display suspiciously good skills working at an industrial factory." The post featured footage from TXT's recent content in which the members went to their manufacturing factory to learn how albums are physically made.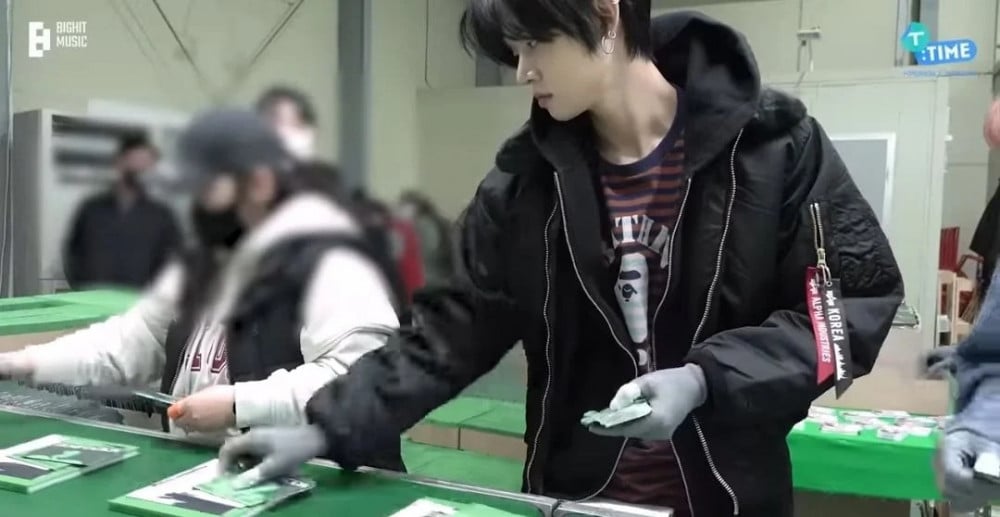 At the company, some of the TXT members showed some great skills while learning how to insert photo cards and flip albums at the assembly line.
The first task of flipping albums one by one was perfected by the member Taehyun.
The second task of inserting photo cards was completed professionally by Yeonjun.
Although all the members worked on every task, some weren't perfect and almost made an adorable mistake by placing incomplete albums on the conveyer belt.
The GIFs displaying the TXT members as workers attracted netizen response such as:
"LOLOL the guy putting in the photo cards is so good that it makes me laugh"
"Can someone tell me the name of the person flipping the albums lol"
"Whoa, the one who is flipping the albums is so good-looking but also hardworking lol"
"It's actually very hard to flip albums using both hands at the same time haha"
"The person who is inserting the photo cards -- his hands are quicker than his eyes following the empty albums lol"
"Are they professionally hired there? lol"
"Haha this is cute"
"Yeonjun is daeback lol"
"Why are they so good lol"
Source: Allkpop