Kim Woo Bin recently sat down for an interview to talk about his upcoming film "Alienoid"!
"Alienoid" is a two-part film about the happenings that occur when a mysterious time portal opens and connects Taoists from the Goryeo Dynasty searching for a legendary sword with people in 2022 chasing down an alien prisoner that's been imprisoned in a human's body.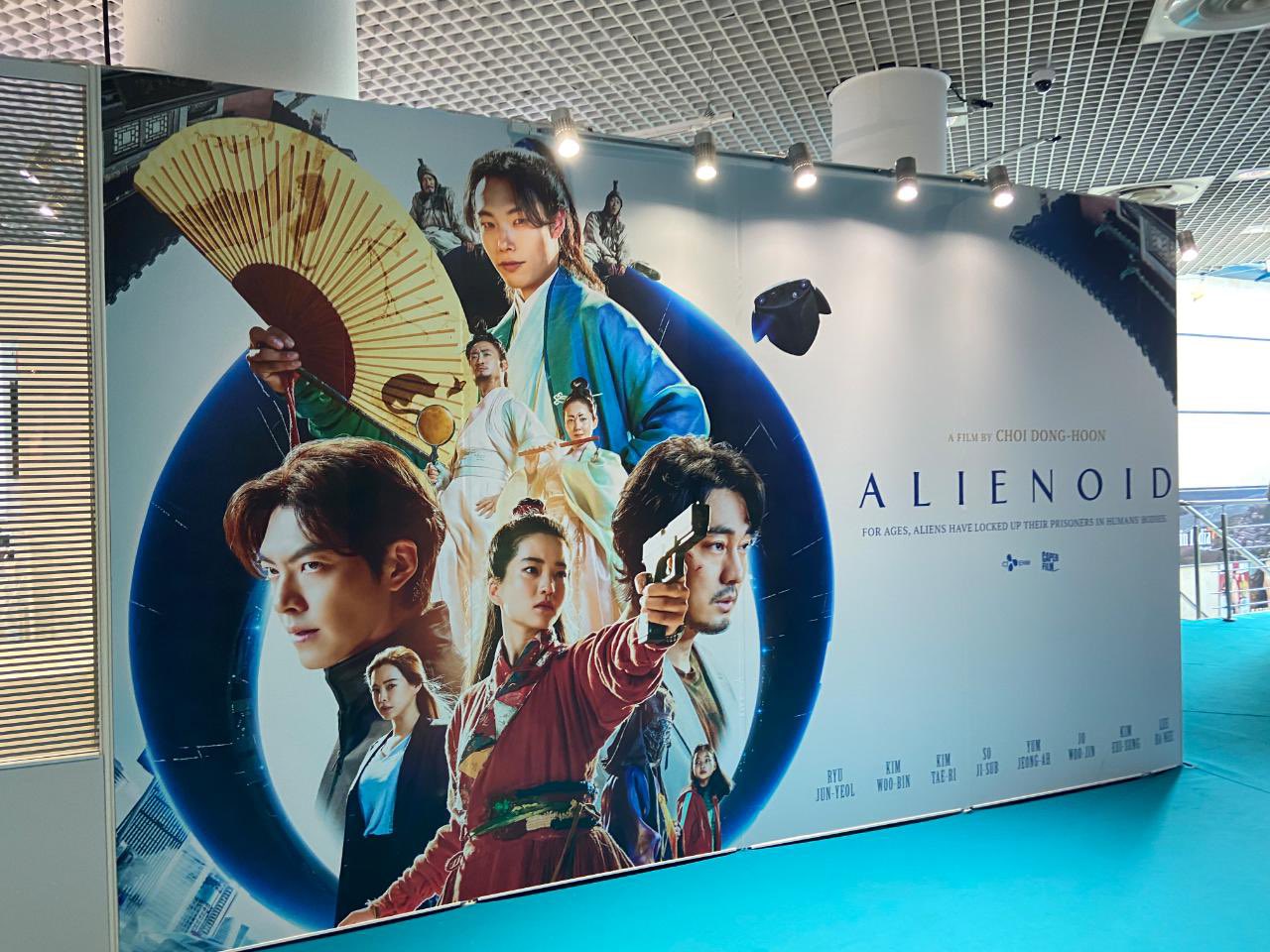 The film is directed by Choi Dong Hoon and boasts a star-studded cast, including Ryu Jun Yeol, Kim Woo Bin, Kim Tae Ri, So Ji Sub, Honey Lee, Yeom Jung Ah, Jo Woo Jin, Kim Eui Sung, Shin Jung Geun, and Lee Si Hoon.
Kim Woo Bin admitted that he had been confused after reading the synopsis for the first time. He revealed, "It took me eight hours to read through the synopsis. I hadn't really watched science fiction films before and it was difficult to imagine what it would look like. However, after seeing the big picture it became an easy story. It's a never-before-seen kind of film."
The actor stars in the film as Guard, who escorts alien prisoners. Such a role certainly fits right into the sci-fi genre, and getting the visual aspect of the character just right is crucial. However, Kim Woo Bin shared that the director wanted his character to blend in. "This is why we chose an outfit that doesn't stand out but can still send some energy," he explained.
Talking about how it felt to be filming with actors of similar age, Kim Woo Bin said, "When I'm working with senior actors I always feel like I need to be doing something for them out of respect. With actors around my age, our conversation becomes more relaxed and we talk honestly about our acting. We take on the role of the audience for each other."
The film marks Kim Woo Bin's first appearance on set in almost five years, as he filmed this before his role in "Our Blues." He recalled the feeling of arriving at the filming location for the first time and being greeted by the director and staff, saying, "I still vividly remember the air and the feeling of my heartbeat before the first clap of the film slate."
Kim Woo Bin commented on the flow of filming and how his lines were often changed on a whim. "Every actor has their own style, and I feel most at ease when I have everything prepared," he began. "I was a bit afraid at first. I don't have much prepared, but what if I can't live up to people's expectations? But while discussing with the director before filming, all of those worries disappeared. The director is someone who isn't stubborn about sticking to what's in his head and goes with the flow of the situation and the actors."
He continued, "The set made me realize that a film is something made together with many people. I'm someone who is quite shy and has a lot of inhibitions, but I started to enjoy my days on set more and more."
The actor reflected on how his previous roles shaped his attitude towards acting as he said, "I used to frequently take on flashy roles and try to portray the charm of that certain genre. However, I always wanted to show off some realistic acting. After experiencing something big in my personal life, my outlook on the world has changed. In the past, I used to live in the future. Everything I did was to help myself later, and I exercised to get a good body. Because of that, work felt more like work."
He continued, "While taking a break, I realized how grateful I was for all of things I took for granted. As such, I started to like myself as I was instead of wanting to go to the future. I found pleasure in conversation, meals, and exercise. I think that's influencing my acting as well. Ever since I was young, I thought that I was lucky to take on work that was bigger than me. I felt the weight and responsibility to not let people down. But while filming for 'Alienoid,' I began to put my trust in others and think, 'The director will do this for me,' and 'Ryu Jun Yeol will take over where I'm lacking.'"
As for his future plans, Kim Woo Bin said, 'I finished filming for the Netflix series 'Black Night' about three or four weeks ago. It took me a lengthy period of time, so I'm planning on taking a breather."
Source: Soompi