EXO Baekhyun is ringing in the New Year on a high note in the new track of his Japanese album, "Get You Alone".
EXO Baekhyun is ringing in the New Year on a high note! After closing 2020 with the soulful single 'Amusement Park', K-pop group EXO's vocalist has dropped the music video for 'Get You Alone' from his debut Japanese solo mini-album 'BAEKHYUN' which will be released on January 20th, 2021.
The music video shows two versions of Baekhyun - one is a nerd who is learning how to explore all kinds of love and to impress someone he has fallen in love and another one is a love coach who offers advice. The original track has a retro vibe with R&B feels and it is truly exciting to see how Baekhyun continues to excel as an artist. He says in the lyrics, "You somehow embrace me with those sad eyes / But I can't be trapped into one form of love / I want to get, all that this heart wants / I'm not greedy, I just want to be honest / Aren't I a bad boy?"
Baekhyun will release six original tracks in his first Japanese mini-album. Here is the tracklist:
1. Get You Alone
2. Addicted
3. WHIPPIN'
4. Drown
5. Disappeared
6. Stars
On Sunday, Baekhyun hosted his solo virtual concert 'Baekhyun: Light' and performed all of his greatest hits.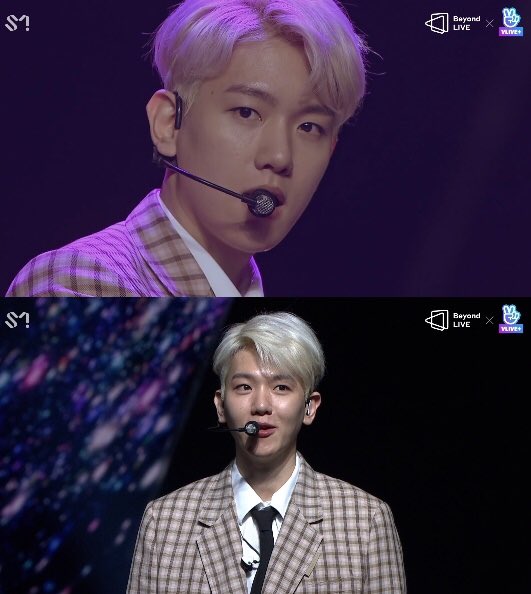 Baekhyun made his comeback with his second mini-album called 'Delight' that dropped on May 25, 2020. The fun R&B album received tremendous response. With the title track 'Candy', Baekhyun released a music video that has a feel-good yet playfulness to it. In 2019, Baekhyun made his solo debut with his R&B album 'City Lights' with 'UN Village' as the title track. As a group, EXO made their comeback last year with 'Obsession' as their title song.
/////
'BAEKHYUN: LIGHT' To Make A 'Boom' With New Spoiled Hints Of 2021 EXO's Comeback
Baekhyun recently ended his first virtual solo concert after titled Beyond LIVE - BAEKHYUN: LIGHT! Scroll down to see what happened.
EXO Baekhyun's first solo virtual concert later titled Beyond LIVE - BAEKHYUN: LIGHT has finally ended today and fans can't help but be disappointed! During her concerts, the idol performed several solo albums such as Record of Youth, Every Second, and the latest single by music prodigy Amusement Park. The K-pop icon also performed songs from the Japanese album, the single "Get You Alone'', and more. In between sets, the male singer got a chance to joke with fans and ask them if the stage is as sexy as he is, adding that he has been thinking about a gift for his fans, and finally decided to reveal the new track from the mini-album Japenese released later this month.
Baekhyun's sharing in the recent online solo concert makes fans believe that EXO will release a group album in this year 2021.
During his first solo concert, the main vocalist of EXO suddenly revealed a piece of special information that made EXO-L believe that it is very likely that EXO will launch the product this year 2021.
"Call Me Baby, Growling, Third is a stage to record my old memories. I want to see the members. I wonder if there's anything new coming out this year? It's hard to sing. by myself, so I have to sing with all of my EXO members ".
This sharing of Baekhyun makes people extremely excited with a super product of the SM boys - EXO.
While chatting with fans between songs, he took a moment to thank his fans, he said that I can do anything, as he has been supported by his loyal fans, his fans give him motivation and more. Baekhyun even joked that after the global pandemic ended, hold a 24-hour offline concert where the rules would be contrary to COVID - You can't go home and you must stay indoors.