Crush shared his thoughts about his new song release!
Crush, who is making his first comeback in about two years, will introduce a new style of choreography as well as new concepts with his upcoming release. In addition, BTS's J-Hope drove excitement by not only featuring and writing the rap lyrics but also by appearing in the music video, increasing the interest of global fans.
Crush shared his thoughts and feelings about his comeback by saying, "It's really nice to greet listeners with the song 'Rush Hour (Feat. J-Hope of BTS)' after about two years. During the hiatus, I was itching to greet you with a good song as soon as possible. I'm so happy to be back like this, and every day is heart-fluttering. I wanted to tell my fans that I'm coming back on September 22, so I shared various comeback teasers on social media every day, but I'm not sure if fans liked it or not. I have prepared a variety of content to express my gratitude to the fans who have been waiting for me for a long time, so I hope you enjoy my new song 'Rush Hour.'"
When asked to introduce his new single, Crush remarked, "'This is Crush Hour.' I wanted this one sentence to sum up and express that 'the time for Crush is back' and that 'Crush's time starts now.' This is a song that compares the way people gather together to enjoy Crush Hour to a traffic jam. It is a very energetic and exciting song that captures my passion as I was eager to work on my music during the hiatus."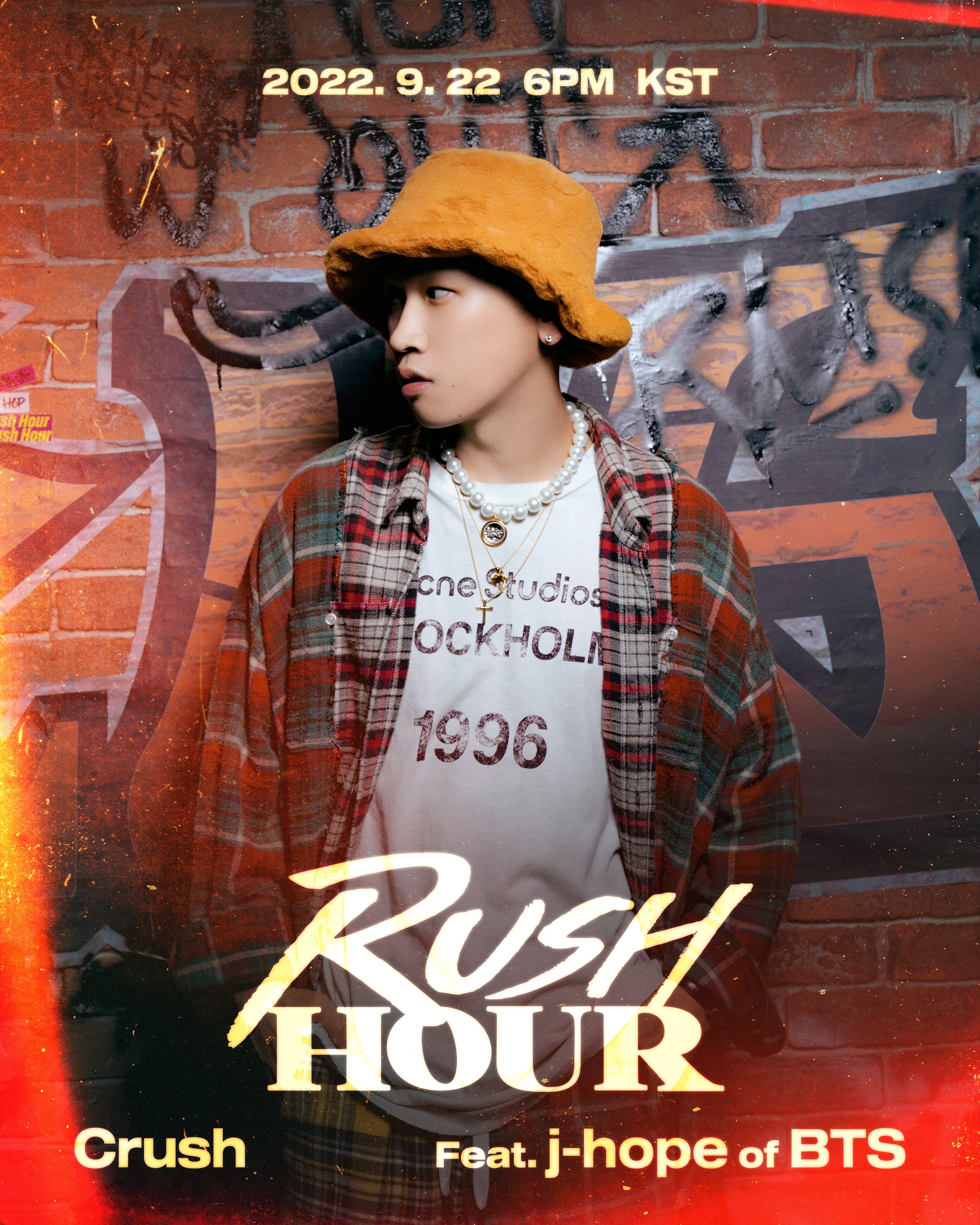 Crush also shared what made the collaboration with J-Hope happen. The artist said, "J-Hope and I had been talking a lot about music before. While I was preparing for this new song, I learned that the musical direction I was looking at and the parts I relate to are similar to those of J-Hope. So I suggested to J-Hope that we work together, and that's how he agreed to take part by featuring [in the song]. I was thinking that J-Hope would suit this song better than anyone else, so I really wanted to work with him, but I think we created synergy in many ways."
When asked if there are any special memories from recording and filming with J-Hope, Crush replied, "J-Hope worked so hard on recording to the extent that he was sweating profusely, and he didn't even go to the bathroom. Throughout the recording, J-Hope was like, 'Let me do it again. I can do it better. One more time please!' Looking at him, I thought that he isn't where he is today for nothing, and I really respect him as an artist."
The artist continued, "J-Hope even willingly appeared in the music video. When I became physically very low on energy from filming my dancing scenes, he stood by my side and tried to cheer me up. Also, I was so grateful for him when he helped monitor and provided coaching."
Crush showed his gratitude for the fans and shared his future plans by saying, "First of all, I am most grateful to the fans who have been waiting for my new song. In return, I am working hard on various activities. I will greet fans [through many events] in many places, so please look forward to it. We'll greet you again soon with more good news." He added, "I hope that my new song 'Rush Hour' will be of strength to fans both in difficult times and in happy times. I hope you enjoy listening to it."
Crush released his new single "Rush Hour" featuring BTS's J-Hope through various online music streaming sites on September 22 at 6 p.m. KST.
Source: Soompi