SM Entertainment has responded to growing concerns regarding SHINee's upcoming fan meeting.
On May 1, SHINee's agency SM Entertainment released a statement regarding fan complaints about the venue and seating arrangements for SHINee's 15th anniversary fan meeting "'Everyday is SHINee DAY' : [Piece of SHINE]."
After apologizing for causing concern to fans, SM went on to explain, "As SHINee's 15th debut anniversary this year is a place for the SHINee members to be face to face with fans for the first time in awhile, we took into account the members' schedules and when fans could attend, and checked the rental was a venue that could accommodate at least 5,000 people on a weekend."
The agency continued, "While there was a place planned earlier, our rental was rejected due to the venue's sudden internal circumstances, and we confirmed that the only place that fit our schedule was the Ilsan Korea International Exhibition Center [KINTEX], so we ask for your understanding that the fan meeting venue was decided as KINTEX out of necessity."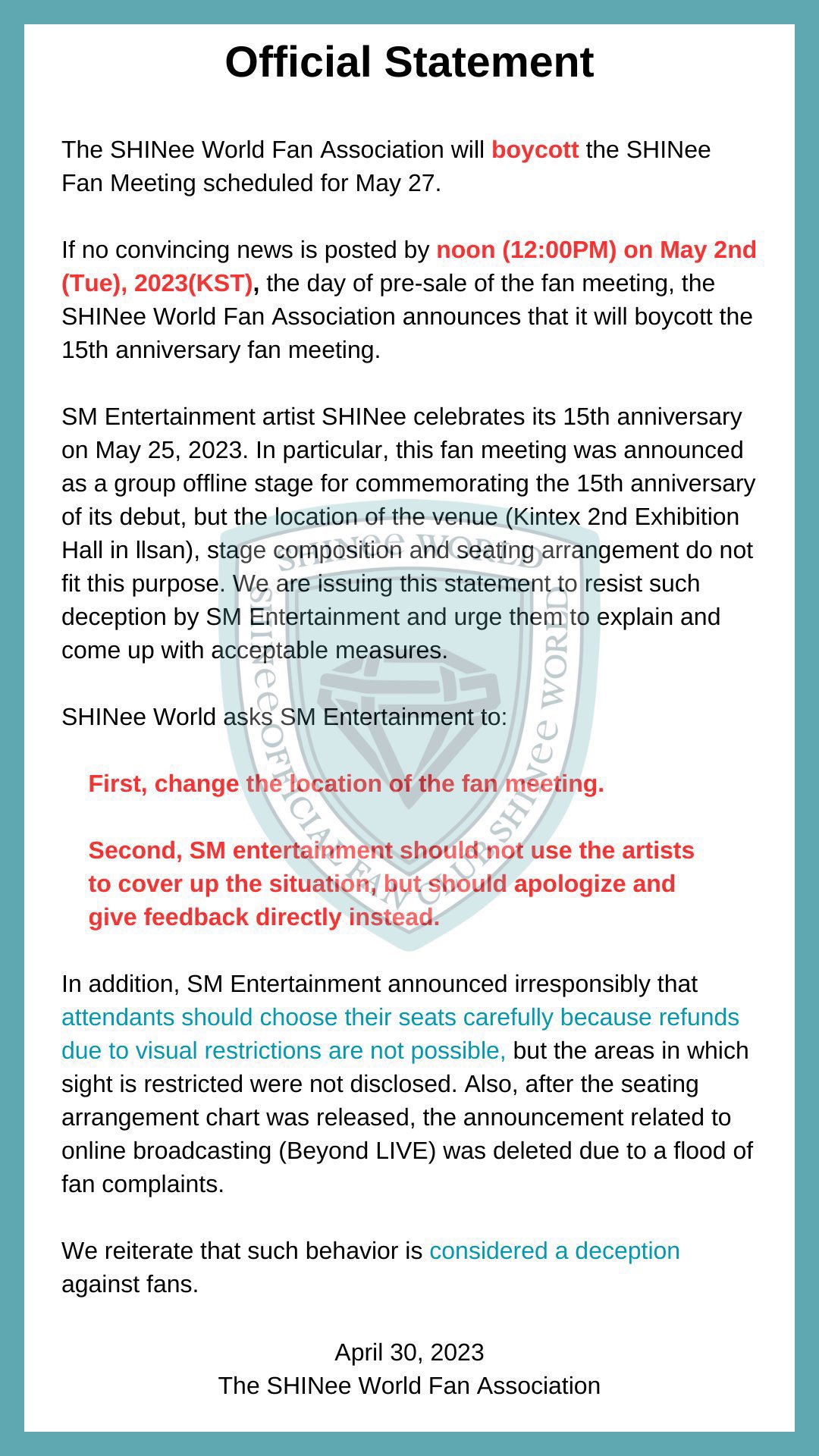 In order to ease fans' concerns, SM shared an explanation regarding what they have planned for the event to better the situation. As there is a pillar in the middle of the KINTEX exhibition hall which limits views from certain seats, SM has added a C Stage as well as a moving car so that SHINee can visit fans seated all over the venue. For fans seated near the back, screens will be set up behind the pillar for their viewing.
For seating areas where viewing may be obstructed, SM is currently in discussions with on-site staff to potentially add raised steps. Finally, there will be an online Beyond LIVE stream for fans unable to make the event. Details for this livestream will be announced along with ticket sales.
SM added that they did not foresee the issue of audience members being unable to deduct expenses due to the Shinchunoung agency being a non-registered business for income deduction of cultural expenses, but shared that they will quickly look into the matter and share another announcement before the fan meeting.
Finally, SM expressed their determination to create a performance without any inconveniences but shared that reality of the situation may result in them falling short. After emphasizing their efforts for this event, SM asked for fans' understanding and thanked them.
SHINee's upcoming 15th debut anniversary fan meeting will be held at KINTEX on May 27 and will be one of their first group appearances following Taemin's recent discharge from the military.
Source: Soompi